Adrie Baumann and Aquascaping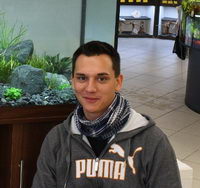 Adrie Baumann is an up-and-coming aquascaper who creates one beautiful layout after the other. One of his works was first runner-up in the contest "The Art of the Planted Aquarium" in 2011, and he surprises us with his designs time and again. At the moment, Adrie especially focusses on discus fish in a nature aquarium, combining an appropriate environment with lush plant growth.
The Aqua Rebell team interviewed Adrie, asking him how he got to know about the fertilizers by Aqua Rebell.
"I learned about this line of fertilizers through the aquascaping portal www.flowgrow.de."
We were of course also interested in learning if Adrie keeps using Aqua Rebell fertilizers.
"Of course I keep using them - the results regarding plant growth and health are simlpy amazing! Moreover, they come at fair prices - it's all there!"
2nd Place The Art of the Planted Aquarium 2011 - XL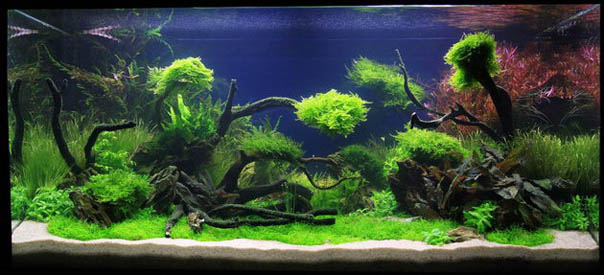 © 2011 Georg W. Just
"The Art of the Planted Aquarium 2011" jury verdict was:
"Very well-balanced, interesting use of plants and tasteful detail."
The Aqua Rebell team can only underline these words. The colours match very well and are yet very diversified. Green areas are craftily combined with red ones. The varied structures of the plants are impressively used and render the layout even more interesting. Mosses, Blyxa japonica, Staurogyne, Ranunculus, Cryptocoryne and ferns combine in the stunning middle ground. Two Eriocaulon plants draw the attention of the viewer in the foreground and stand out from amidst the carpet formed by Eleocharis. Their flower spikes remind of antennae and thus add an almost surreal detail to the overall design. The well-balanced placement of the driftwood rounds off the layout very well. This tank is a worthy first runner-up of "The Art of the Planted Aquarium 2011".
Natural Ground

The aquascape "Natural Ground" combines lush growth with beautiful discus fish. This interaction creates a very special effect. Discus fish in a nature aquarium - two wonderful worlds in one tank producing a very nice image. Adrie did a very good job with his aquascape "Natural Ground".

Magical Forest

This mythical aquascape creates a very special atmosphere by its play of light and shadows. The mossy trees stand out from an Eleocharis meadow, surrounded by some Hydrocotyle sp. "Japan" and Staurogyne repens.
Isle of no return

A very expressive aquascape. The stem plants grow very vigorously and have healthy, crisp colours. The middle ground is especially attractive, with an outstanding and breathtakingly healthy colony of Pogostemon helferi. Utricularia graminifolia, Hemianthus callitrichoides "Cuba", Staurogyne repens and Blyxa japonica add a touch of diversity to the middle zone of this scape. There are many things to be discovered here, and one would like to gaze into this really beautiful aquarium for a long time.